The cornerstones of every business are how they present themselves to the world, and the central hub for where they connect with their audiences. Our Foundational services are how you build those fundamental assets and start to start to really move your company forward. 
Brand Identity
The way a corporation, firm, or commercial venture displays itself to the public is referred to as corporate identity or corporate image. Branding and trademarks are common ways to depict business identity, but it may also encompass things like product design, advertising, and public relations.
Brand is much more than just a logo or set of colours. It's a promise of what people can expect when they're dealing with your organisation.
KBI develop the right level of brand identity for where your organisation is right now. For start-ups, a relatively simple styleguide may be sufficient, but an enterprise needs a much more detailed an nuanced examination and result will be needed. We help codify and document exactly what the 'rules' of your brand are, as well as when and how to make use of it all.
Ignite Brand Identity
A Baseline for Your Business
A styleguide is a set of key 'brand ingredients' and guidelines that helps ensure your organisation is well-represented in a cohesive and compelling manner.
Over the course of several workshops together, we collect and tease out exactly what you need to project into the market and start piecing together all the elements to help you stand out from the competition.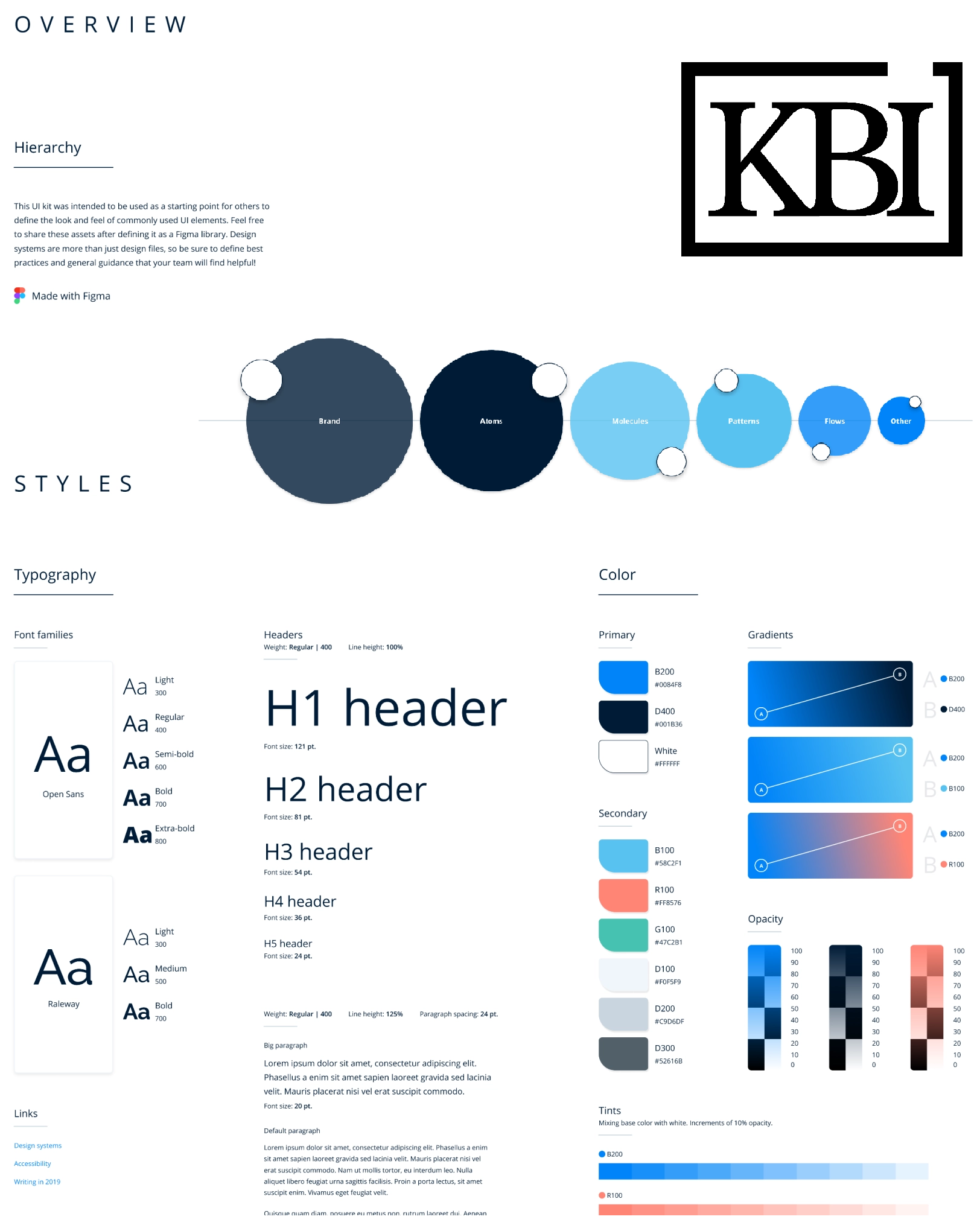 Accelerate Brand Identity
Brand in Full Fidelity
A complete exploration of your brand potential, we create an incredibly detailed documentation of how your organisation is represented.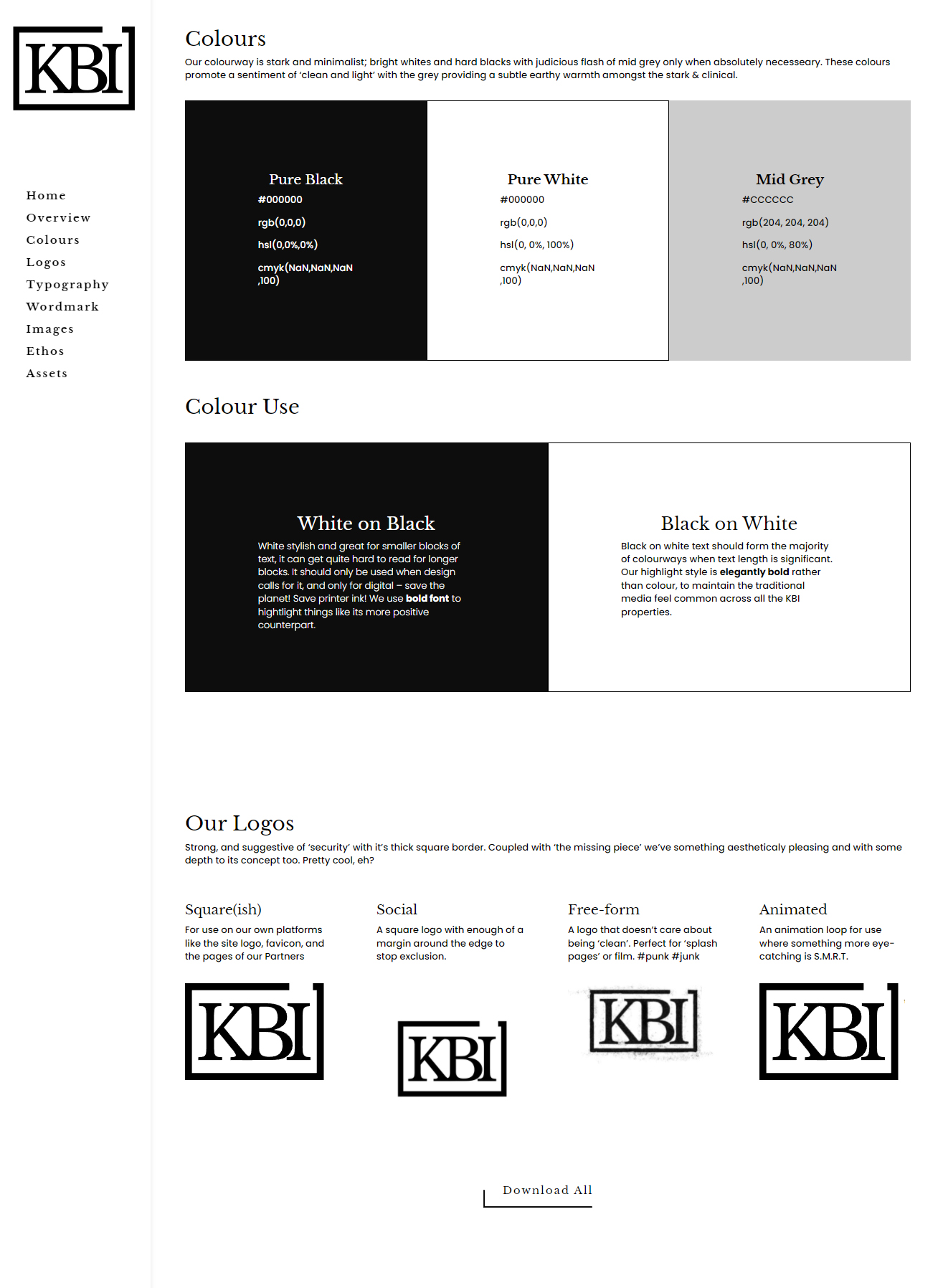 Want to Know How We Can Help?
Site Development
Your website is the cornerstone of your digital presence. Everything should be directed to your site – whether from social media or the sites of partners – and feed into your machinery to create, foster, and manage your leads.
KBI build sites as unique as your business, based on the expertise we've built upon over years of operation in the security space. 
Every business needs a digital presence, and your site is the hub for all your online marketing and communications activities.
To get started, all you need is a simple site that eloquently promotes your business and provides means for prospects to learn and engage with your company. For larger and growing businesses, an information-centric website's goal is to provide specialised, useful information to a specific audience so that the reader learns something new or gains a better understanding of a topic.

Show don't tell your audience why they need you

Provides concrete reasons why you're better than the competition

The user journey is ideal and makes is as frictionless as possible to engage
Ignite Sites
Our Ignite Site builds are your first step in creating a proper digital footprint. We build clean, simple sites, designed to carry your message to the world, and to become the hub for your business.
Rapid deployment
Fully extensible for future development
Optimised for SEO
Expertly crafted copy and design to represent your company
Accelerate Sites
Our Accelerate Sites are designed to bring sophistication and automation to the fore. Whether building upon your Ignite Site, or as a stand-alone project, this site type is designed to educate your prospects so they're ready to take action.

Designed to house and make best use of your content
Built to provide greater business intelligence

Provide truly compelling arguments to your prospects

Make your user journey and conversion much smoother
KBI.Media

The Voice of Cyber ®
KBI.Media reports on the cutting edge of Security. Podcasts, deep-dive articles, streaming news service, and documentaries all dedicated to cybersecurity.
Frequently Asked Questions – Foundations